Mass Tort Vendor Association – President Jeff Huff addresses NTLA at Hall of Fame luncheon
By Amanda Sterkel, Executive Director of MTVA February 2020
During the National Trial Lawyers Hall of Fame luncheon January 20th, 2020 in Miami Florida, Jeff Huff President of the Mass Tort Vendor Association ("MTVA") and American Law Firm Capital had the opportunity to address over 1000 attending trial lawyers.
The crowd enthusiastically responded to the success, purpose and vision of MTVA to create a collaborative network of the industry's leading and most knowledgeable vendors in the mass tort field while promoting trusted and tested ethical best practices for the purpose of defining and recognizing "Best in Class" vendors for trial lawyers.
An update was also provided on the MTVA board which includes two Hall of Fame Members. the 40 members in attendance were recognized from the floor including Trevor Goins the membership Director and Kevin Kramer the COO.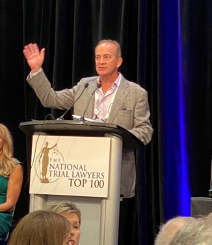 MTVA 2020 Inaugural
Announcement at
NTLA, Miami, FL
Announcements also included the establishment of Standards, a Code of Ethics, and as a priority project, MTVA had identified the need of self-regulation through the establishment and on-going enforcement of a grievance committee and a Compliance Policy that can now be found at www.MTVA.law.
While Mr. Huff was excited and proud of the accomplishments and dedication of all MTVA members in such a short period of time, he asked lawyers to not hesitate and please submit ideas to the MTVA regarding how this new association may best serve the Trial Lawyers.